Archive for the 'Australian Amphibians' Category
Posted on July 26, 2010 - by admin
DISPLAYS THE IMAGE URL SPECIFIED IN THE CUSTOM FIELD
By Gerold, Cindy and Walter Merker
Tree frogs can offer entertainment and enjoyment – and, of course, challenge.
From the dry Gran Chaco region of South America to the icy waters of Alaska, frogs and toads have been found in nearly every environment. With nearly 4,000 species – more than 10 times the number of salamander and newt species – anurans are by far the most successful group of the amphibians. (more…)
Posted on July 20, 2010 - by admin
DISPLAYS THE IMAGE URL SPECIFIED IN THE CUSTOM FIELD
It's hard for many of us to look back on the invention of septic tanks, sewerage farms and reticulated water without shedding a few tears for auld lang syne and a few for old green tree frog.
by Steve Van Dyck
For there, among the galvanized clutter of overflow drains, slimy tank stands, thunderboxes, stink pipes and dripping taps, dozed the king of croakers, the mighty green tree frog, undisputed lord of the outside loo. (more…)
Posted on June 6, 2010 - by admin
DISPLAYS THE IMAGE URL SPECIFIED IN THE CUSTOM FIELD
A species of frog presumed extinct for nearly 30 years, a bell frog, has turned up in the Southern Tablelands.
In the world of amphibians, it is the equivalent of finding the Tasmanian tiger.
The yellow-spotted bell frog was once ubiquitous in the northern and southern tablelands of NSW, but was almost wiped out after the chytrid fungus arrived from Africa in the early 1970s. (more…)
Posted on May 29, 2010 - by admin
DISPLAYS THE IMAGE URL SPECIFIED IN THE CUSTOM FIELD
Litoria splendida or the Magnificent Tree Frog
Magnificent tree frog can look quite similar to their close relative, the more widely distributed green tree frog. While their commoner cousin is found over much of eastern and northern Australia, the magnificent tree frog is restricted to the Kimberleys of Western Australia. These two tree frogs can be told apart by the magnificent tree frog's brilliant orange colour found on its limbs, groin and thighs, and the massive glands that appear behind its head. (more…)
Posted on May 28, 2010 - by admin
Litoria citropa or the Blue Mountains Tree Frog
Found in the coast of New South Wales to the Blue Mountains, the Blue Mountains Tree Frog is a beautifully coloured frog with a base colour of medium brown it has a dark line from its nose to its groin with a lighter line above it.
The Blue Mountains Tree Frog has bright green spots on their head and limbs as well as orange and red marks on their arms and legs making them quite a sight to see.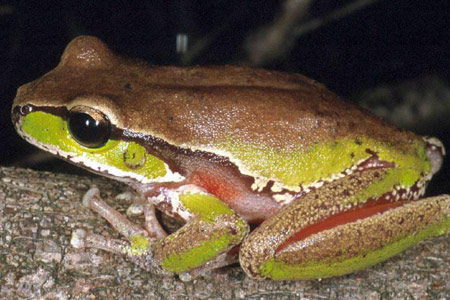 Posted on May 27, 2010 - by admin
DISPLAYS THE IMAGE URL SPECIFIED IN THE CUSTOM FIELD
Litoria alboguttata or the Green-striped frog
Green-striped burrowing frogs are not typical frogs. They can be found in drier environments, such as woodland, cleared land, and drier forests. The male Green-striped frog calls from beside temporary waterholes after periods of heavy rain. Their call has been described as a loud and rapid quacking sound. These frogs can remain underground for up to seven years while they wait for the rains to come. They form protective cocoons by shedding their skin repeatedly. These skin layers form a waterproof shell around the buried frog, preventing them from drying out. (more…)
Posted on May 26, 2010 - by admin
DISPLAYS THE IMAGE URL SPECIFIED IN THE CUSTOM FIELD
Cyclorana platycephala or the Water-holding Frog
This species is a member of a group of burrowing frogs. The water-holding frog occurs in a wide range of habitats from coastal floodplains, wet scrub and forests, woodlands and grasslands. During the dry season, these frogs remain in a burrow in the soil. The summer rains wake these animals from their sleep and allows them to breed and feed. During this time they shelter under rocks or vegetation by day, and are active by night. Because the wet season lasts for only a few months, the Water-holding Frog must breed quickly and then eat enough prey (such as insects and worms) to restore their energy sources for the next dry season. (more…)